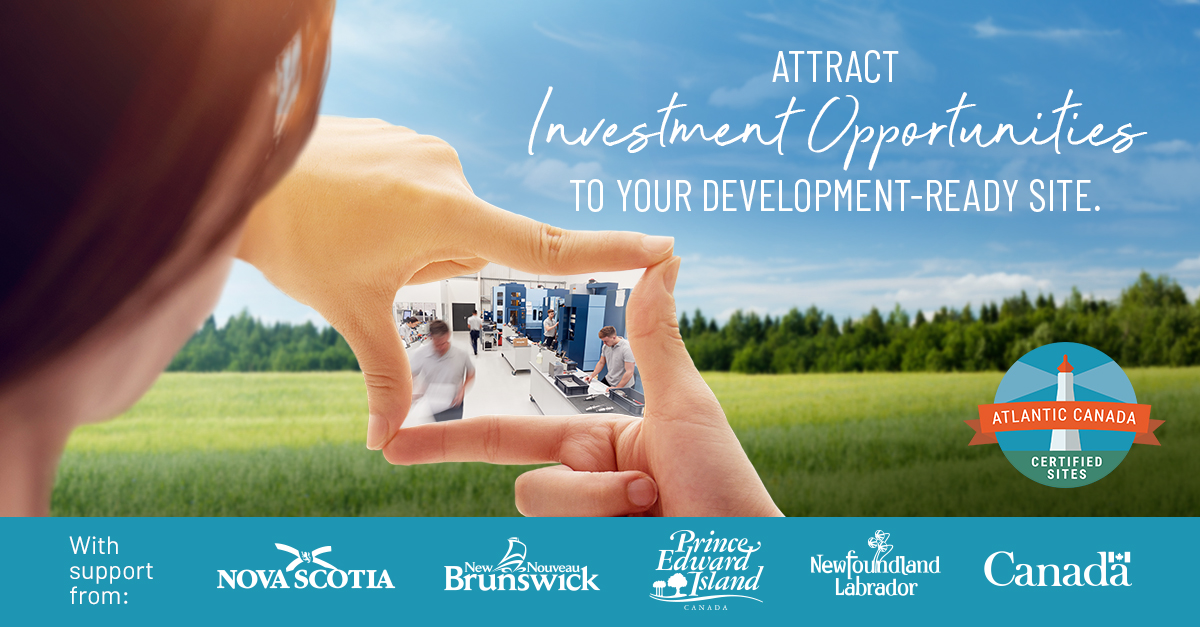 Atlantic Canada landowners to benefit from innovative program to attract global buyers
September 21, 2020 - A unique program designed to help landowners attract global investors was launched today to help attract foreign investment to the Atlantic Region. 'Atlantic Canada Certified Sites' is a pan-Atlantic platform which prequalifies commercial and development properties for sale, and then promotes them to potential buyers around the world.
Through this program, landowners can apply to have a rigorous assessment review conducted by an independent third party with extensive knowledge of commercial site attraction. Once a site is certified through this process, it is deemed suitable and ready for development and investment.
When a property receives its 'Atlantic Canada Certified Site' designation, it immediately becomes more attractive to investors and site selectors who gain access to important background information to help them with investment decision making. Information such as such as utility and transportation infrastructure and environmental assessments is collected and authenticated to help inform and speed up the site selection decisions. The cost to the landowners is $500 per listing. For more information or to get certified, please click the link to our website: Certify your commercial real estate.
"Becoming an Atlantic Canada Certified Site not only helps your property stand out, but also provides potential investors with the key data and property information they need, speeding up the site selection process," said Neville Robinson, Atlantic Association of Community Business Development Corporations President. "For investors, certified sites mean faster turnaround times, quicker approvals, and lower risk, so they can make decisions and break ground on new development projects efficiently. It's a win-win."
As part of the program, certified sites are marketed with an advertising program in national and international markets, providing visibility to global investors and decision-makers.
The key site categories of the Atlantic Canada Site Certification Program are a private landowner, a commercial site owner, or an industrial or municipal park property owner.
The program is delivered by the Atlantic Association of Community Business Development Corporations and supported by the Government of Canada and the four Atlantic Provinces through the Atlantic Trade and Investment Growth Agreement.
For more information, please contact:
Joe Brennan
902-747-2232
Joe.brennan@cbdc.ca