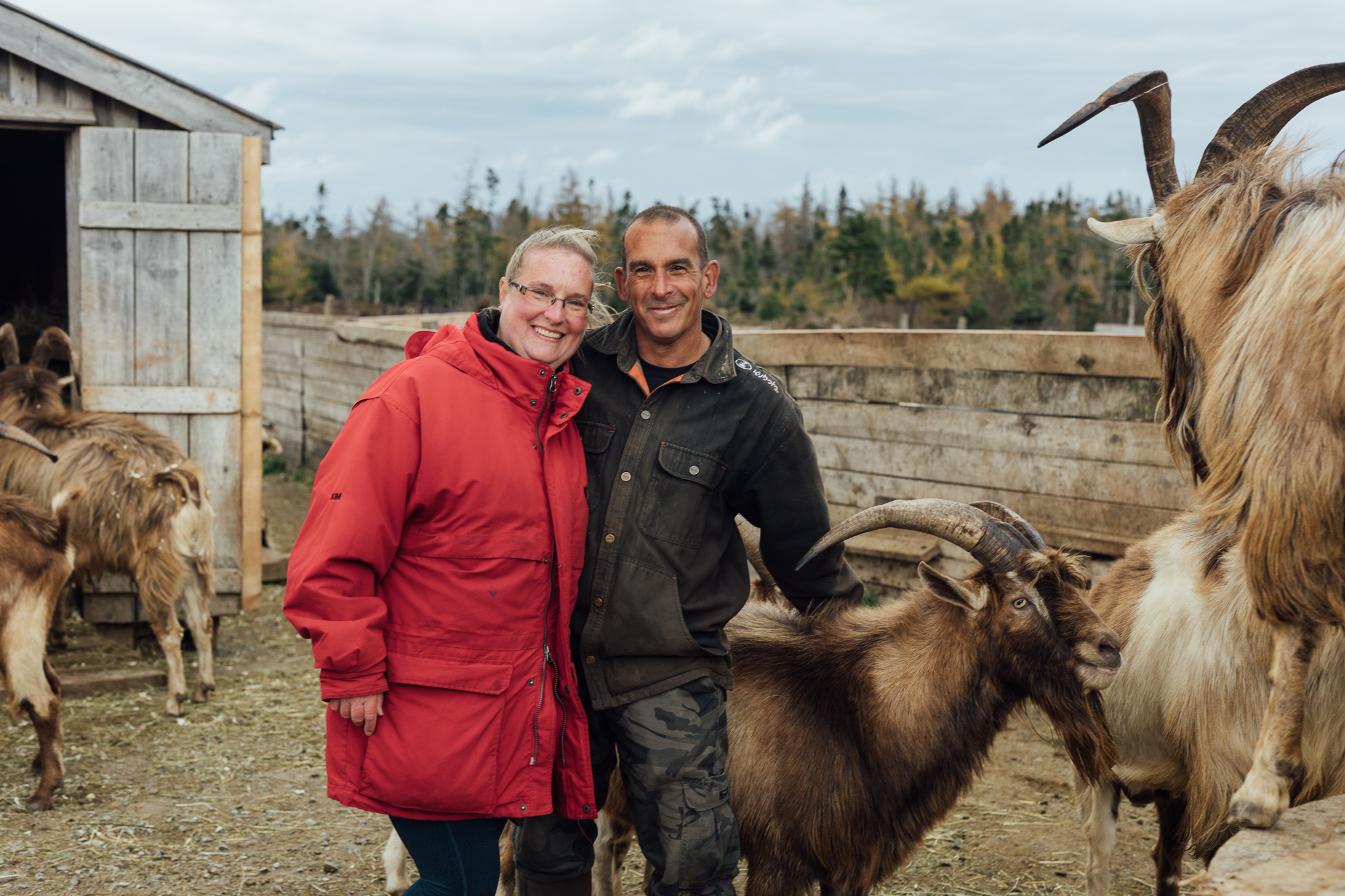 Kim Davis watches people go into the goat pen, sit down, and within minutes the stress visibly melts off.
"All of the sudden, you see them take a big deep breath. They're like, 'I can breathe,'" Davis said.  
"Breathe all you want here," she tells them. 
Ataraxy Farm in Lawrencetown, Nova Scotia is a therapy farm with over 40 goats, 5 horses, 3 donkeys and a mule. It was a personal secret for Davis and her family for 8 years, until they opened it up to the public in 2021.
"It benefited my husband for the time he needed it," she said. "Then he was ready to open it up to everyone else, to help benefit them."
In 2013, Kim's husband, Blair, was volunteering on a farm to help with his combat-related PTSD. When the kids volunteered and everyone fell in love with two of the horses, they ended up buying them and starting on the path they're still on. 
When stabling fees started to look like a mortgage payment, they decided to build a new life. They made their plans, and within four months of submitting building plans to the contractors, they were moving in. 
"We don't move slow here," Davis said. 
It wasn't long before a few more horses were added to the family, along with some other surprises. 
"It was 'buy a horse, get a free goat,'" Davis said. "And that's how we ended up with Fred." 
Even though they knew nothing about goats, her husband and kids wanted him, so they learned. 
"We learned about Fred," Davis said. "After the third time of Fred busting through my door into my house, we learned about Fred that he is also a herd animal and requires his own herd."
They now have 49 goats, and have found them to be great therapeutic animals. 
"Our goats are raised around my husband with his PTSD, so they know how to calm him down," said Davis.  "They do the same with anyone else who comes to the farm."
People will sometimes come visit, and Fred will immediately go up to them, and stick to their side. When they eventually mention that they have PTSD, Kim and Blair will often say, "we know. Fred told us." 
Fred does this so frequently that he's been nicknamed, "the veteran's goat."
One employee with social anxiety described the magic of the experience to Kim as the animals' willingness to just be with people.
"They don't judge you, they don't ridicule you. You can just talk to them and they sit there and listen," she told her. 
All sorts of people have been finding benefits in the farm. Whether practising yoga on the deck in the goat pen, or young kids finding a sense of normalcy in the middle of the pandemic. It's the whole reason the farm exists.
"Mental health is expensive on a good day. If you don't have health insurance, you can't get a psychologist," Davis said."In order to give to those that need the help, they can come out here for free."
As people continued visiting the farm, they often asked for milk and dairy products. 
"I could have sold it 20 times over and have been a millionaire," Davis said. 
They had already been selling soaps to help sustain the farm, but the goal was to make the farm self-sufficient. That's when they approached CBDC. 
After visiting the farm, Davis felt the CBDC representatives understood what her family was trying to accomplish, and believed in the business model. They eventually provided a loan to build a building and buy the equipment for a dairy. Davis doesn't think they could have done it without their help. 
"It would have taken a month of Sundays," she said. 
They have plans to eventually be able to provide accommodations, and a more immersive experience to visitors. But just making the farm sustainable, so it can continue to run and be free to those who need it, is all the reward they want, especially for Blair.
"When you have people come in, full grown adults, sitting in there with the goats, and all of the sudden they start crying, they become extremely emotional, because they're able to release and let go, it helps him. It gives [Blair] that confirmation that he's actually helping people."