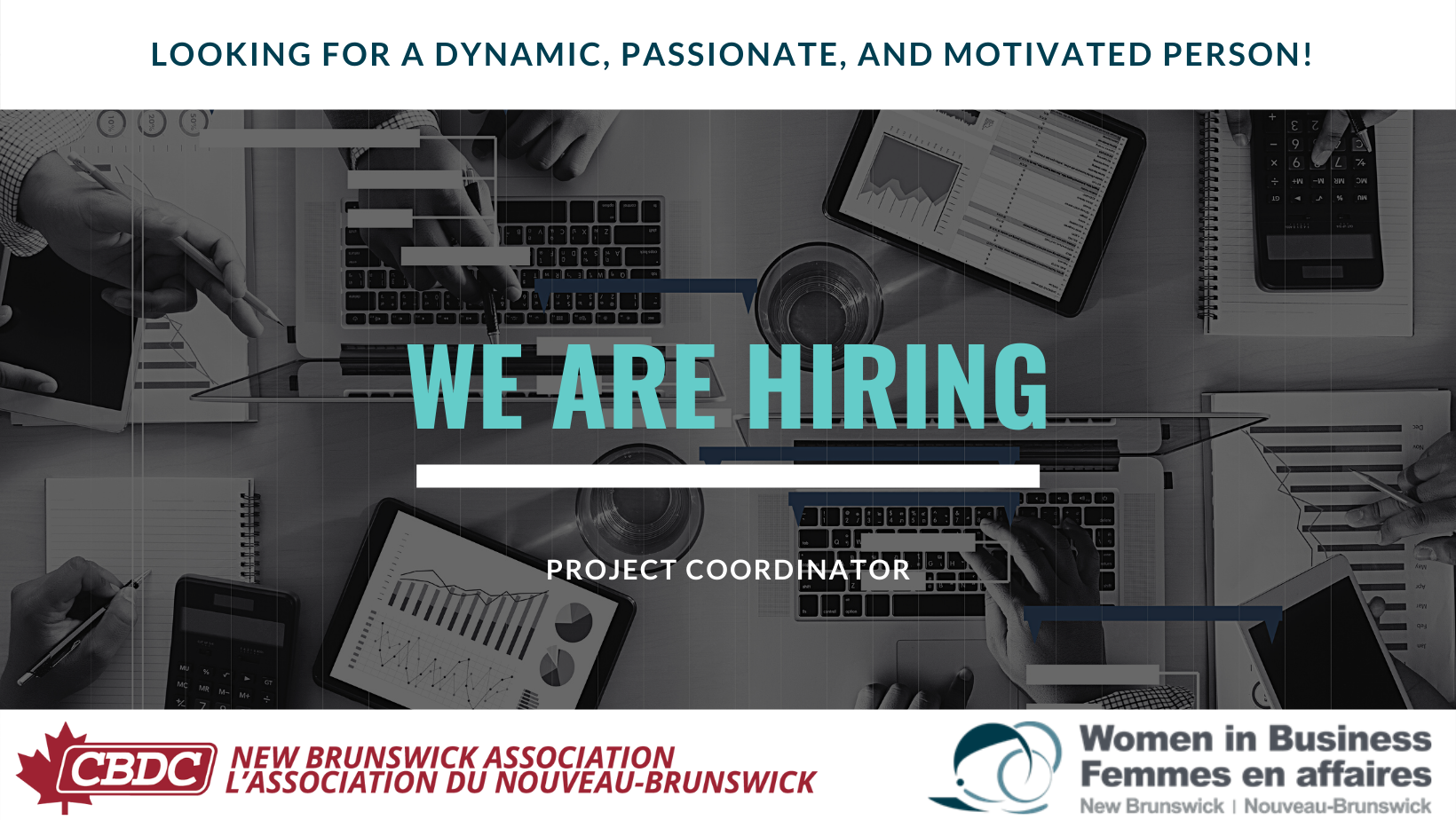 Are you seeking a new and exciting challenge?
 In addition to offering services and programs to women entrepreneurs throughout the province, Women in Business New Brunswick (WBNB) is looking for a dynamic, passionate and motivated Project Coordinator.
Reporting to the WBNB Director, the Project Coordinator will provide technical, operational and coordination support for Women in Leadership's Walk the Talk. The Project Coordinator will oversee that initiative, in close co-operation with key actors, in order to bring about policy, attitude and practice-related changes aimed at ensuring gender equality and women's rights. The successful candidate will also provide specialized knowledge with respect to developing strategy and implementing a community of practice to advance women's rights.
General role and responsibilities
Create and maintain relationships with stakeholders
Research legislation, policies and/or practices relating to gender equality
Develop and implement community-based approaches to address intersectional barriers to equality
Design and implement policies and practices
Build relationships between equality-seeking organizations and other stakeholders to foster collaboration across sectors and to advance gender equality
Provide advice and support to women in various regions of New Brunswick
Set up and facilitate focus/networking groups
Determine training needs and help coordinate related activities
Establish an advisory committee
Host workshops and meetings
Organize a provincial networking and knowledge-sharing event
Develop and share toolkits to improve women's leadership across sectors
Guide partners towards objectives and draw up an action plan
Manage project budgets, including sending claims to the financial partner
Education and experience
Bachelor's degree or diploma in business administration, political science, gender studies or feminist studies and/or a related field, or equivalent work experience
Minimum five years of successful experience in an economic development position
Knowledge of barriers to equality/women's representation, particularly Indigenous women, ethnic minorities and other underrepresented groups
Sound knowledge of lobbying and advocacy techniques
Familiarity with research and other findings relating to the under-representation of ethnic minority women and systemic barriers to leadership and decision-making positions
GBA+ training certificate or related knowledge would be an asset
Basic skills required
Self-motivated
Able to get along with supervisors and co-workers
Able to work harmoniously as part of a team
Able to instill full confidence and to complete job requirements with a minimum of supervision
Results-oriented management (ROM) approach and good grasp of ROM objectives
Good interpersonal and team building skills
Diplomatic skills; able to work and adapt to varying clienteles (young people, seniors, rural/urban dwellers, community organizations, government representatives).
Strong organizational skills, including time management and planning
Able to set objectives and follow-up, in addition to managing data
Facilitation and communication skills
Technological skills, especially Microsoft Suite, client relationship management (CRM) software, virtual meeting software (e.g., Zoom, Teams)
Exceptional client service skills and able to build solid relationships
Strong facilitation and group presentation skills
Able to travel around the province
Fluent in English and French (spoken/written)
Must hold a valid driver's license
Start date: As soon as possible
Salary and working conditions
Salary negotiable based on experience and education
Contract position (full-time until March 31, 2024)
Benefits (medical/pension)
The position is based in New Brunswick
Travel is required around the province
If you are interested in this position, please email your application along with a letter explaining how you meet the profile requirements by October 19th, 2021 to the attention of Katherine Lanteigne (katherine.lanteigne@wbnb-fanb.ca).