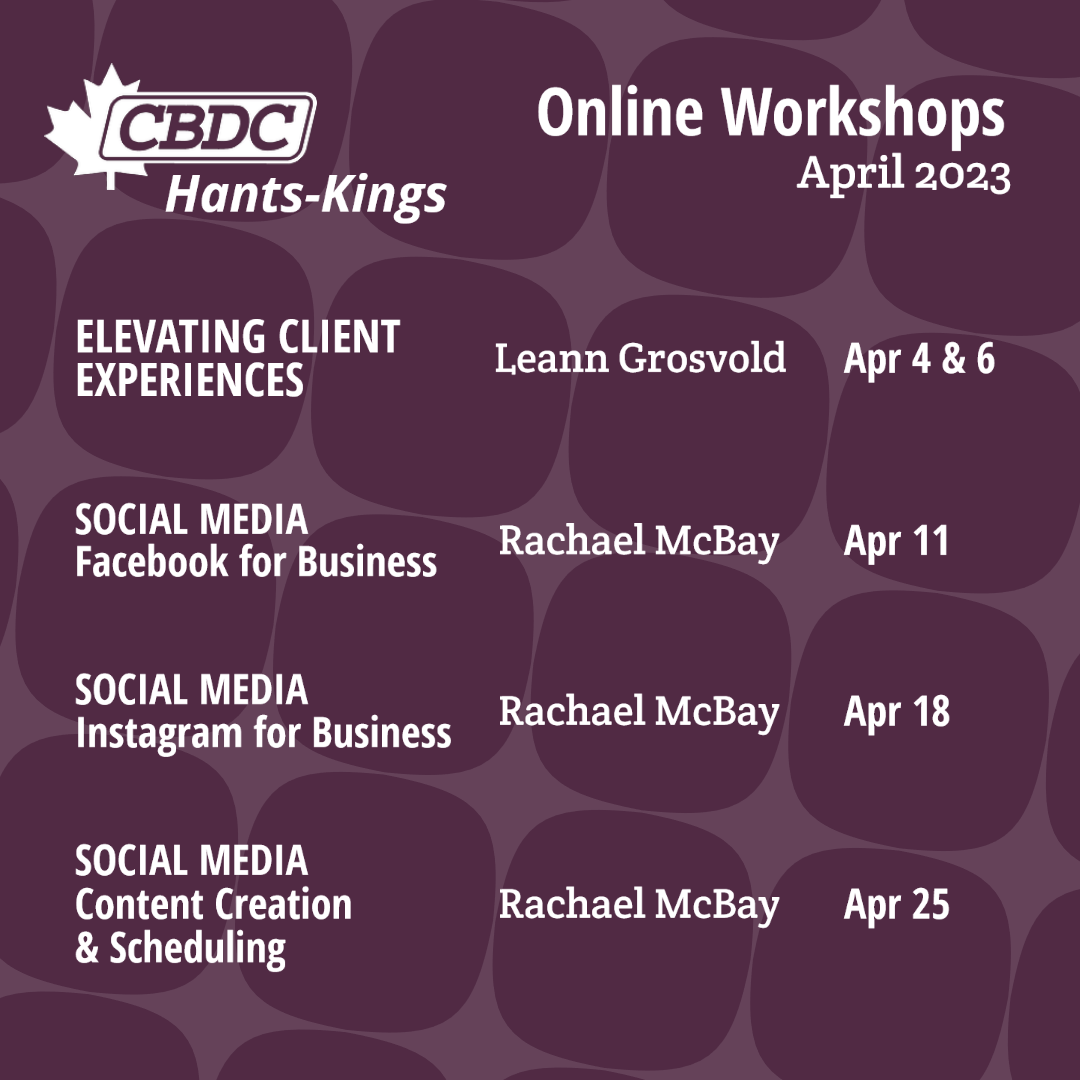 Join us for one of our four upcoming business basics workshops:
- ELEVATING CLIENT EXPERIENCES
  with Leann Grosvold on Apr 4 or 6
- SOCIAL MEDIA: Facebook for Business
  with Rachael McBay on Apr 11
- SOCIAL MEDIA: Instagram for Business
  with Rachael McBay on Apr 18
- SOCIAL MEDIA: Content Creation & Scheduling
  with Rachael McBay on Apr 25
Workshops are up to 2 hours long and take place on Zoom. Courses are FREE, you must register to get the Zoom info. To reserve your spot, contact Allison.Hirschfeld@cbdc.ca.
#CBDCHantsKings #ThinkCBDC #EntrepreneurTraining #GrowYourSmallBusiness #ClientSupport #BusinessTraining
Elevating Client Experiences
Presented by Leann Grosvold, Élann Consulting
Are you a small business owner looking to elevate the experience you offer to your clients? Join us this workshop to better understand and influence how customers perceive your business. Exceptional hospitality comes in many forms and curating an authentic client experience is an invaluable investment. 
Learn about:
- client touch points & interactions
- elevating your unique client experience
- valuable (low cost) investments 
- promotional & partnership opportunities
Four Options, choose one:
Tue, Apr 4 at 10 am or 6 pm
Thu, Apr 6 at 10 am or 6 pm
SOCIAL MEDIA: Facebook for Business
Presented by: Rachael McBay - Digital Marketing Solutions
Social Media can be a key component of your small business marketing plan. This course will cover the use of Facebook for small businesses, including:
- Optimizing your Business Page
- Boosting Engagement
- Increasing your Following and Reach
Tue, Apr 11 at 10 am
SOCIAL MEDIA: Instagram for Business
Presented by: Rachael McBay - Digital Marketing Solutions
Social Media can be a key component of your small business marketing plan. This course will cover the use of Instagram for small businesses, including:
- Optimizing your Account
- Understanding Insights
- The Importance of Hashtags
Tue, Apr 18 at 10 am
SOCIAL MEDIA: Content Creation
Presented by: Rachael McBay - Digital Marketing Solutions
SOCIAL MEDIA CONTENT CREATION & SCHEDULING
Social Media can be a key component of your small business marketing plan. This course will cover the basics of creating content for your business social accounts, including:
- Identifying your Content Pillars
- Creating Content that Converts
- Scheduling Content
Tue, Apr 25 at 10 am