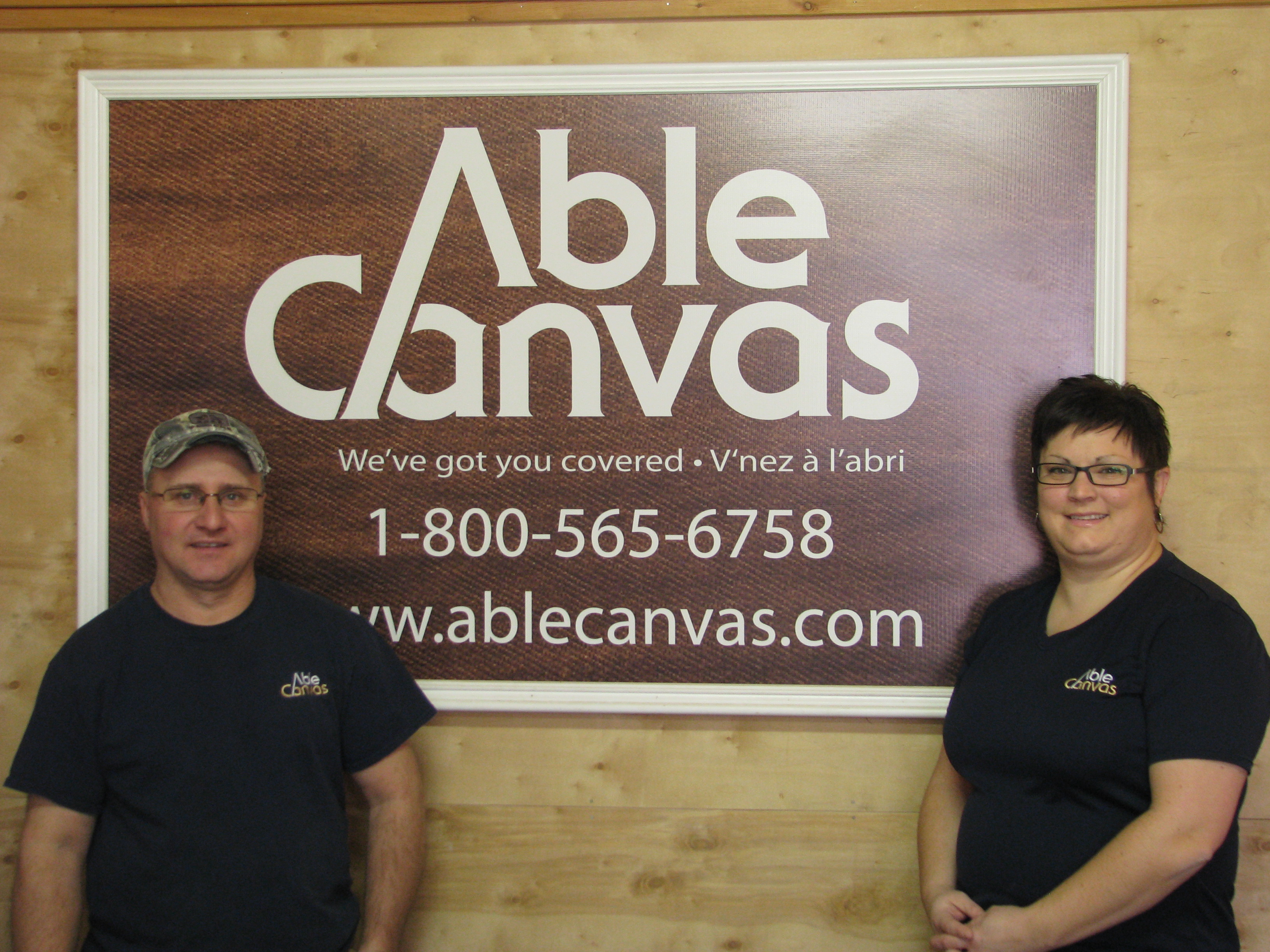 Able Canvas – More Than Just an Awning
Able Canvas – More Than Just an Awning
When you mention the word 'canvas' around a group of people, several will say that it's something that an artist uses when creating beautiful paintings. Others might reply that when they think of that word, they remember going tenting with their parents in those bright orange tents that were popular back in the late '70s. While both of these interpretations are correct, when people in the area of Barachois, NB hear the word 'canvas' they immediately think of Able Canvas, a company that skillfully combines both the beauty of an artist's palette in the fabrics they use with the durability of those practical yet purposeful tents.
Natalie and Berny Cormier, the owners of Able Canvas (2011) Inc. and their terrific staff, have slowly but steadily been making a name for themselves in the world of creating durable yet esthetically pleasing coverings for their clients. Producing awnings for both commercial and residential use on terraces, decks etc., boat tops and seat cushions, protective tarps for all sizes of trucks, pool covers as well as providing repair services for broken zippers on tent-trailer tops are just a few of the many items that are produced at this well-run manufacturing facility. Able Canvas even supplies filters for sifting flour for bakeries – a must-have item necessary to produce those tasty loaves of bread that are enjoyed by all.
One might say that Natalie and Berny's journey into entrepreneurialism was facilitated by Berny's mother who happened to mention to Natalie that the original owner of Able Canvas was considering selling the business. "I always knew that at some point in my life I'd become a business owner," says Natalie. "Having been raised in a family where both my mother and father were entrepreneurs gave me a taste of what being a business owner entailed at an early age. I helped them out in their convenience store as a teenager and worked for them right up to the time I went off to college to study business. I remember telling others that someday I'd own a business of my own – I just wasn't sure what type of business that was going to be until the opportunity to purchase Able Canvas came along. After doing our due diligence, I knew this was a company where both my husband and I could work together to increase the scope of the business. So we took the plunge, got a business loan, purchased the company, and jumped into the entrepreneur pool with both feet, not having a clue about the daily ins and outs of running a business."
And what a steep learning curve they embarked on! Natalie says that she'd bring home two or three books on the different types of fabric at night and study the properties of all them. Terms like fire retardant level, warp strength, thread count, and cold crack became commonplace in her vocabulary as these were attributes she needed to know when advising clients which fabrics were the best suited to fulfill their request. She states that even now new materials are being manufactured, and that boring orange canvas of the '70s has been replaced by a multitude of beautifully designed functional fabrics from which to choose when creating an awning or recovering boat seats etc.
"I believe that the attention to detail we invest in every single project as well as using quality fabrics has helped us grow our client base," states Natalie. "There is no such thing as a 'cookie cutter' solution for every client. We carefully listen to their list of requirements then go about creating a product that combines functionality with durability and design. We get a lot of repeat business and have found that word of mouth references have helped us achieve a minimum of 5% growth or higher year after year. It's also helped that we've had the assistance of the great people at the CBDC Westmorland Albert to call on whenever we needed additional business training or counselling. They've been behind us from day one, whether it was being able to go through their Self-Employed Business Program to getting their help with sorting out cash flow issues and streamlining our operation, they've been there for us. Berny and I consider the team at the CBDC to be one of our greatest allies in creating a strong, viable business."
The future is looking very bright for Able Canvas with the introduction of their newest manufactured item, namely protective coverings for mini-split heating/cooling units. This new, innovative product has captured the attention of clients from as far away as San Diego and Florida. By exporting their products, Able Canvas will certainly continue to thrive well into the future.
And by the way, yes, they can still create a bright orange awning for your travel trailer or home if that's your heart's desire.
© Copyright 2015 Marlene Oulton