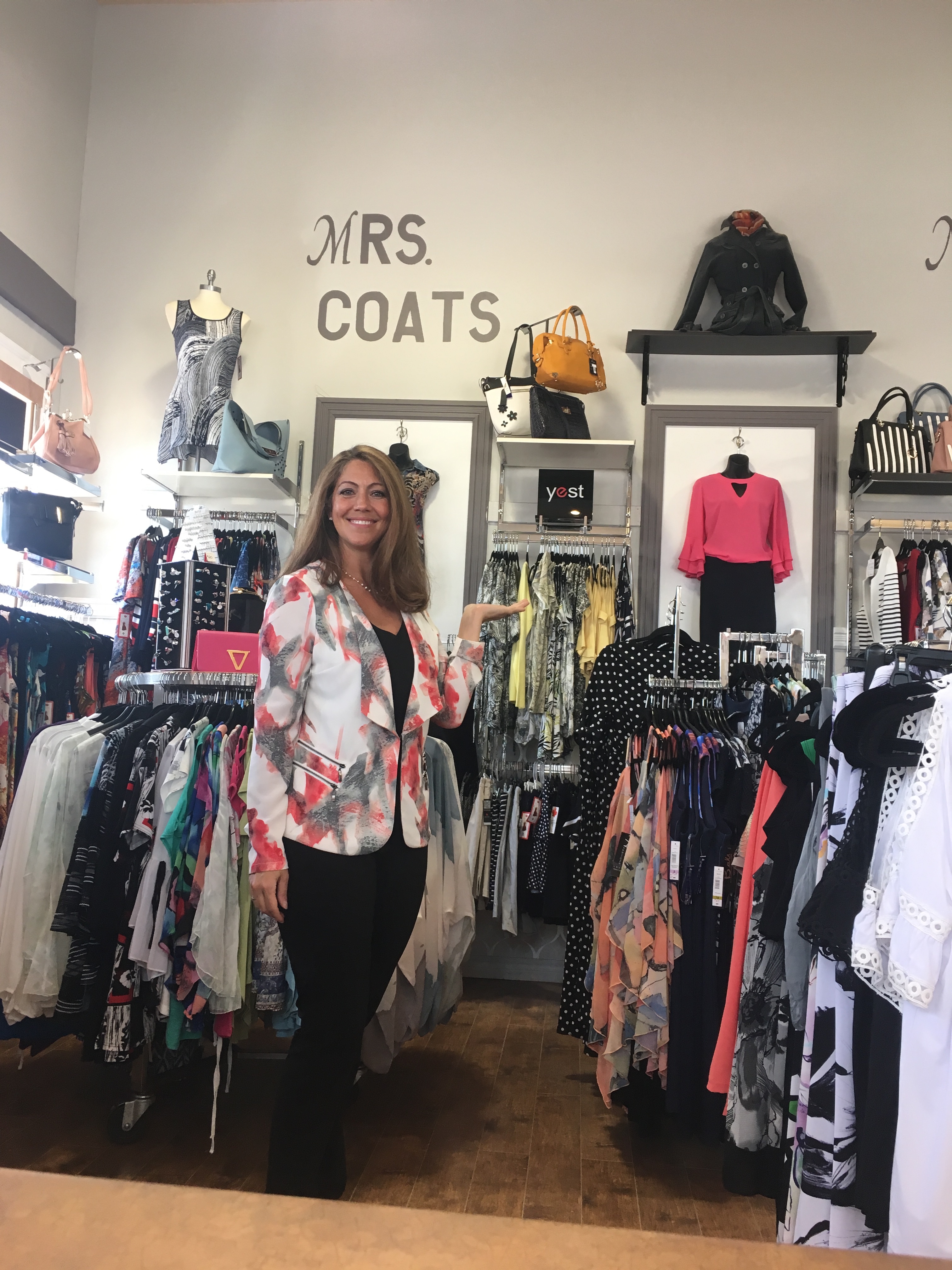 Tucked away at 81 Champlain Street, Dieppe, NB, is one of the area's most exclusive yet affordable ladies fashionwear shops, namely Madame Manteaux – Mrs. Coats.
This gem of a shop is the brainchild of Cindy Levesque who was tired of having to settle for ho hum fashion finds whenever she went shopping for clothing. "It seemed that every time I bought something special to wear to a function, I ended up seeing someone else wearing the same thing! I don't mind anyone copying my look or style, but it can be a tad embarrassing to be wearing the exact same dress as another person in the room", she says with a laugh. 
Armed with determination and her love of fashion, Cindy opened Madame Manteaux – Mrs. Coats in July of 2013. She'd worked for a few years in retail sales and had learned quite a bit about the merchandising and buying aspects of the business so the move to owning her own shop was a natural progression of her passion for clothes and accessories. 
"I knew from day one that I wanted to offer select lines of clothing from as many Canadian design houses as possible. The clothes had to be moderately priced as most women have a budget they need to follow. They want to be trendy yet stylish at the same time, and not break the bank purchasing an outfit. Bringing in only a select few items in a wide range of sizes (from extra small up to 2X-3X), allows us to offer uniquely designed clothing for all ladies", states Cindy.
Madame Manteaux – Mrs. Coats also has another distinct advantage over their clothing competition. Every Friday, Cindy downloads photos or videos of their new arrivals onto their Facebook page.  Look for them under the page name of Boutique Manteaux Madame – Mrs. Coats or Mrs. Coats - Miramichi in her new store located in the Douglastown Mall, Miramichi. Savvy shoppers who love browsing online can easily see what's new in her shop. "Another thing we do to encourage sales is have Pop-Up Stores in nearby cities such Quispamsis, Fredericton, etc. For one day we rent a space, set up a 'mini' store with about 20-25 racks full of clothes and coats to offer to the buying public. We advertise in advance in that areas local paper and on Facebook as well, and have had tremendous success with this type of selling. The other advantage of doing these types of events is that people who've bought from a Pop-Up Store will drop into our store the next time they're in Moncton." 
Cindy acknowledges that with the help of the CBDC Westmorland Albert, she built up her business a lot faster, especially in that crucial first year. "The folks at CBDC offer a wealth of information to those entering into entrepreneurship", Cindy says. "Whether you're looking for assistance with start-up loans or have specific needs from experts in setting up your bookkeeping requirements etc., the CBDC can point you in the right direction. I would highly recommend giving them a call if you're commencing the journey down the entrepreneurial path."   
Madame Manteaux – Mrs. Coats is one company that will certainly not go out of style any time soon! 
© Marlene Oulton