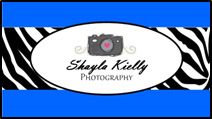 A Growing Entrepreneur: Ready, Set, Nails & Shayla's Photography
Sitting in my room doing friends and my own nails from a kit that was ordered online, was only what I thought to be a girl thing.  But when I was approached by Nick with Youth Ventures in Spring 2014, to turn my own hobby into my own business, I thought nothing more.

The business I wanted was photography but still being so young and in high school while working a full-time job, the time was not right for training, I needed to finish high school.  So I decided to take Nick's advice and start my own nail business "Ready, Set, Nails by Shayla".  With the support of family and friends, I got my business off to a great start and it continues to be great because of my valuable clients.  But it didn't stop there.
Photography was still in the back of my mind.  So I approached CBDC in Spring 2015 to start again yet another business.  I wanted to capture the special moments in peoples' lives.  The support of the staff of CBDC set me on my way.  Through hours, days, nights and even weekends of photography training, I got my business "Shayla Kielly Photography" started and today, I'm loving every minute.  Each capture that I've taken is a memory that I shared with someone.  So thanks to CBDC Celtic for their financial and business support.  You have made my pursuit of a career in business brighter.  Never let the small opportunities pass by because one day, it may be your future.  Thank you again CBDC!