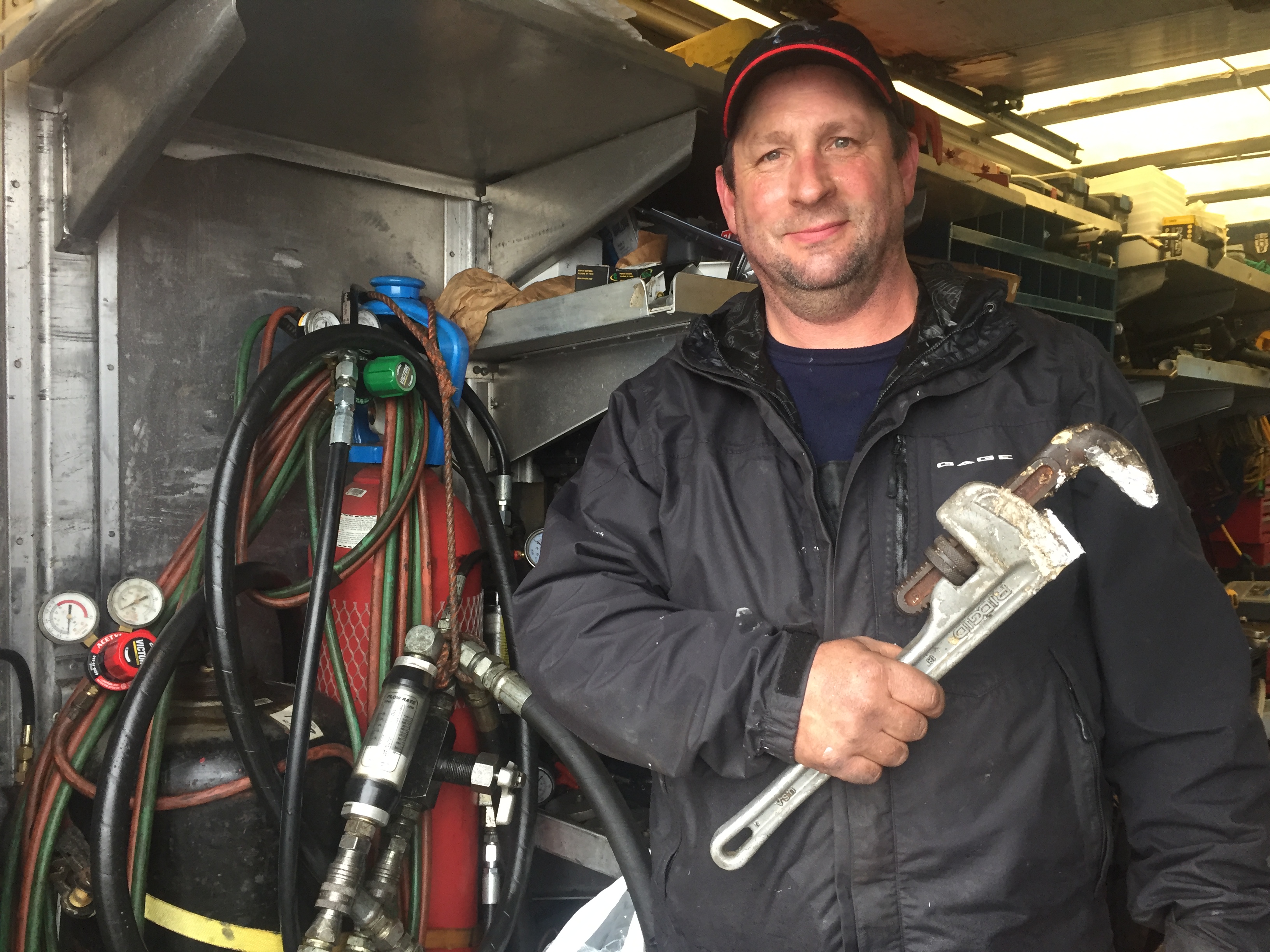 A Great Kick Start Program: Scott's Marine Repair
By Darcy Rhyno
Swimming against the tide, Bruce Scott made his way back home from working in western Canada to Sou' West Nova Scotia when lobster prices rebounded several years ago. He hadn't been back long when he made an observation that would set him on a new and a wildly successful venture. Nobody was offering a mobile repair service to all those hard working fishermen, now with larger boats that lengthened their fishing season.
"Most of the boat shops now are so busy with the price of lobsters up again," Scott explains, "they don't have time to send out crews any more. The fishermen were in desperate need of having someone to come and do the work on their boat." With the boat builders flat out and fishermen too busy to do their own repair work, Scott decided to start a business to supply the expertise and labour he saw was in significant demand.
After 30 years in the fishery, Bruce Scott was already well known and respected boat shop worker and former fisherman himself. "I already had a reputation for this kind of work," he says. "I started out as a grinder, worked my way up to carpenter and got pushed into the mechanical field."But he knew he still needed a lot of help, setting up his business. "I never operated my own business before."
That's where Shelburne CBDC comes in.
Scott saw one of their ads and decided to contact them. "It was pretty much a no-brainer to work with them, to get their help," says Scott. "They offered advice on how to run my business, who to talk to, where to go for the different registrations. Through the self-employment program, they offered financial help for my wife to get bookkeeping training." Through the program, Scott received support while getting his business off the ground. "Having that income for the first year, that takes the pressure off to concentrate on the business instead of whether you're going to eat each week. It's a great kick start program." 
To get started, Scott bought an old Purolator van. "I stripped it out and I've got workbench, a little desk, all my hydraulic and pipe fittings, a pipe threader, a 20-ton press, a drill press. Yup, I've packed a lot of stuff in a little van." Scott does mechanical repair, including hydraulics, bilge pumps, shafting and cooling pipes. He also carries out required steamship inspections. "We did 12 or 14 inspections this summer."
Scott has spent a lot of time in that van. "I work mostly in the marine industry, travelling wharf to wharf, repairing boats as need be, supporting them throughout the fishing season. I'm pretty much on 24-hour call for them." Right from the beginning, Scott has had more work than he can handle. "We're averaging 50 to 60 hours a week," he says. "From the week before lobstering to the week after, I never had a full weekend off. Once last year I worked 42 hours straight. I had a half hour nap." 
"They've got bigger boats, they're able to go in rougher weather. When boats are on the water, things are going to break down, so I'm on call."
Throughout their time with CBDC, the Scotts worked with Self Employment Program Coordinator, Grace Campbell. "She was fantastic," says Bruce Scott. "More than helpful. More than friendly. Anything I had a question about or any problems at all, she would be right there for me."
Looking back, Scott says, "I probably could have done it in the long run to set everything up, but it would have been twenty times harder without her help." He's still in touch with Campbell at CBDC. "She'll call and see how everything is going," he says.
In the summer, they get a chance to go to their woods camp most weekends.