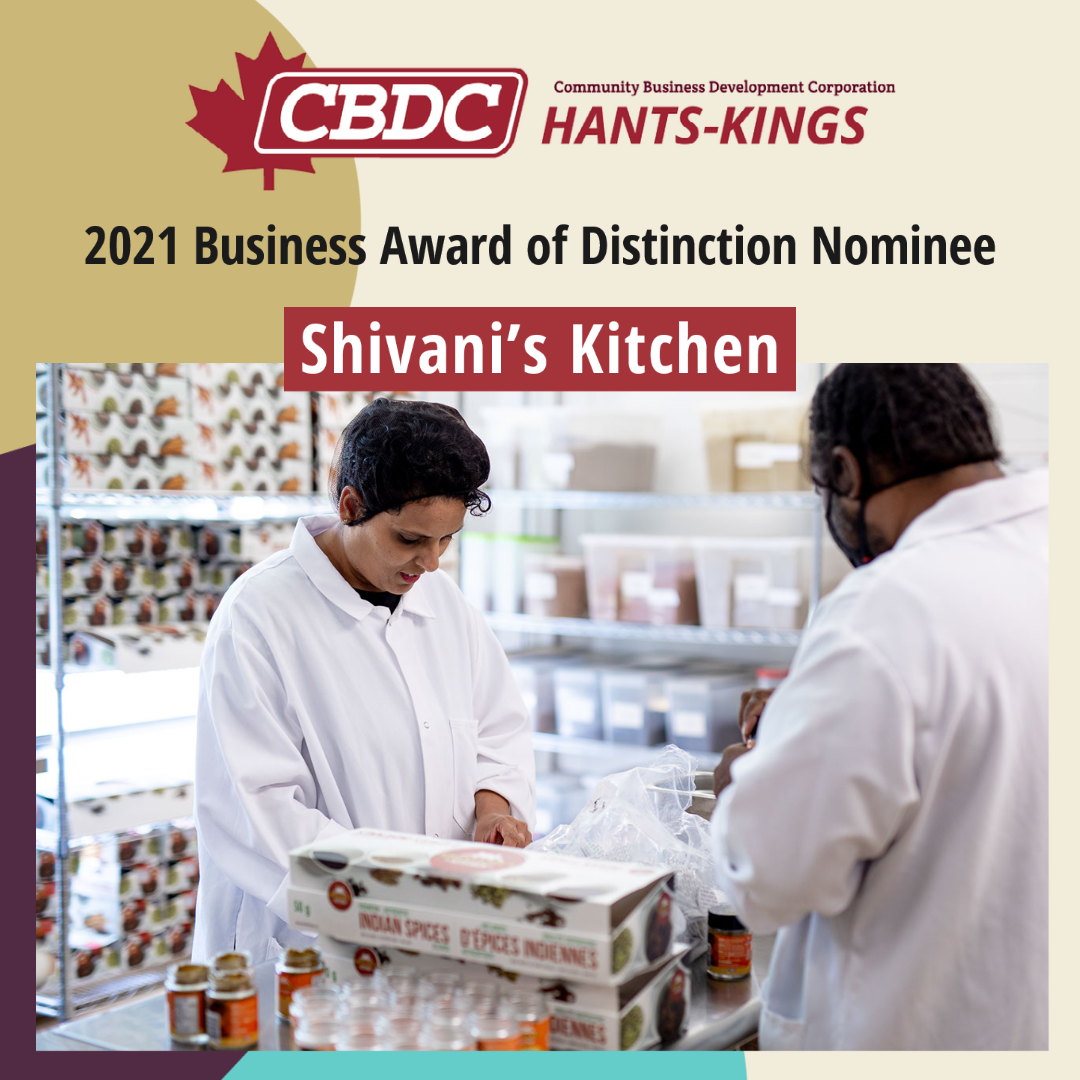 2021 Business Award of Distinction Nominee - Shivani's Kitchen
You might wonder how someone can go from point zero to major success launching various products and services and continue to grow through a pandemic? Meet Shivani Dhamija, owner of Shivani's Kitchen. This entrepreneur is the epitome of passion, determination, and perseverance.
Founder Shivani Dhamija immigrated from India to Nova Scotia ten years ago. After working at different positions while searching for her dream job in the PR field, she learned of someone who really missed Indian home-cooked foods. This was Shivani's first client, leading to the launch of Halifax's first packaged Indian Meal Delivery Service in 2014. It was so popular that she registered the business and Shivani's Kitchen was born. Inspired by the food they purchased; clients wanted to learn how to cook Indian food. Shivani's Kitchen expanded and began offering Cooking Classes in 2015. The same year, she began attending the Spryfield Farmers' Market where it became clear that meeting clients and getting direct feedback was the path to success.
Customers loved buying her food and taking part in her classes, but how could they source the amazing spices she used? In 2016, the energetic entrepreneur launched a line of spice blends, starting with Garam Masala. Two years later, Shivani opened a take-out restaurant at the Seaport Farmers' Market in Halifax where she continued to give classes and sell spices. Now, customers wanted to buy ready to use sauces. Going into high gear, she not only added ready-to-use-sauces like Butter Chicken to her product line, but Shivani also started showcasing her products at Pete's Frootique, more Farmers' Markets and in 2019, her products were launched in Sobeys stores. The foundational principal of providing spices without fillers and salt carried through to the sauces, which are produced without salt and preservatives, are vegan and gluten free, and use fresh ingredients from local farms.
In response to the COVID-19 pandemic, Shivani decided against opening a second restaurant, closed the existing restaurant and pivoted to set up a food production plant in West Hants at The Station Food Hub. CBDC Hants-Kings provided loans for Shivani to invest in equipment which would allow her to increase production and enter the wholesale world in a serious fashion. Today, over 150 major food stores, restaurants, cafés, and other outlets buy her spice blends and sauces. "Shivani's Kitchen" is becoming a household name. The successful business owner's goal in the next two years is to be selling her product lines through large wholesalers to reach markets throughout North America.
Setting up facilities that meet various certification standards, along with competing with bigger brands has been challenging, as are production costs. For example, Shivani says, "The machine you need in Asia is only $1,500 but here in Canada it is $15,000." She could take her factory to India and drastically drop her production costs, "but we want to be here and support our local farmers".  On the upside, the personal rewards are many. Customer feedback is always positive. She's also garnered a lot of recognition including being the recipient of the prestigious DEAM award for supporting diversity in her company.
This entrepreneur loves what she's doing, has the courage to try new ideas, and is tenacious as she holds onto her vision.  Asked what advice she'd give others starting out, Shivani says, "Make your skin very thick, because you are going to face a lot of challenges, politics, and discrimination. Learn from it! The next day is a new day." While growing her business, Shivani has been a mentor and supporter other entrepreneurs and especially of other immigrant women starting businesses. Shivani strongly believes that the success of Nova Scotia and Canada is found in our people and giving back.
CBDC Hants-Kings nominated Shivani's Kitchen for the Business Award of Distinction based on the business growth, strong local partnerships, and significant pandemic pivot. The refocus of the business from selling spices, sauces, and take-out meals at Farmers' Markets to producing and wholesaling spices and sauces brought Shivani's to West Hants and initiated the relationship with CBDC Hants-Kings. While it's more expensive to produce their products in Canada, Shivani's decided to create the wholesale business here and procure local produce and ingredients from farms in the area. This is not the easiest route for a company fulfilling wholesale orders and shows the commitment to the local community and economy. We are impressed with the contributions back to the community, in particular the ongoing mentorship of other entrepreneurs. This is a great business success story as well as an immigrant success story and we were proud to nominate Shivani's Kitchen for this award.