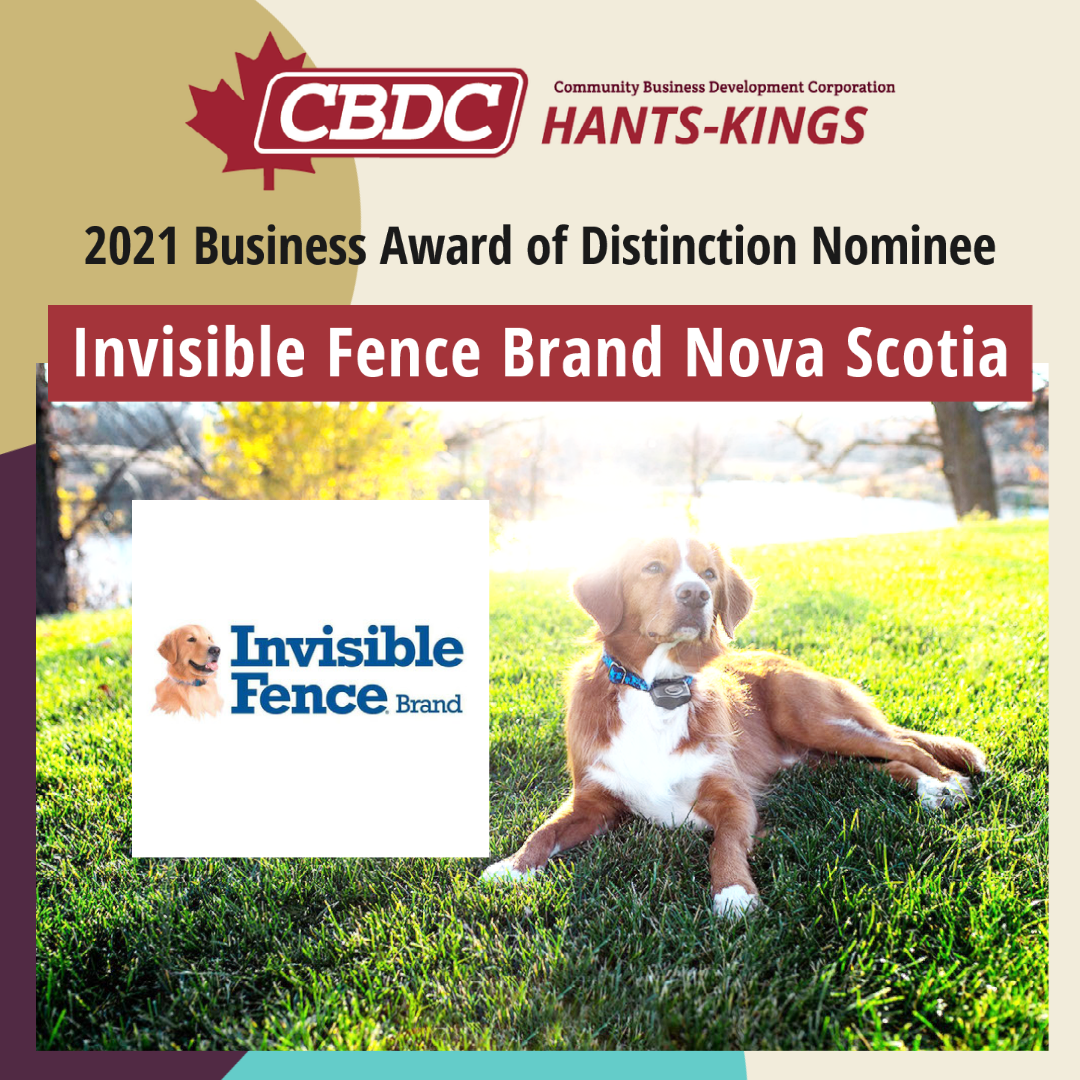 2021 Business Award of Distinction Nominee: Invisible Fence Brand Nova Scotia
Invisible Fence Brand Nova Scotia offers solutions to a variety of pet related issues, from keeping pets safe on a small lot in a neighborhood, to keeping them contained on a 500-acre farm.
CEO Pam Murray started Invisible Fence Brand of Annapolis Valley in 2004, serving the valley area as an owner operated business with one car on the road. With care and perseverance, the business has grown year over year. They purchased a second dealership in 2015 and a third in 2019. All three dealerships operate under Invisible Fence Brand Nova Scotia, covering all of Nova Scotia and the greater Moncton area. There are currently 7 staff and 5 vehicles servicing their clients. The current challenge is to hire and train staff to cover the ever-expanding market.
Their business model is built on a finite number of transactions based on manpower and time available. Because their services can't be mass produced, each transaction is as important to them as it is to their clients. Being in a position of trust with the well-being of client's 4-legged family, they need the right people doing the right job with professionalism, care, and compassion. While this business model is not a fast track to the finish line, it has built up a loyal client base that is responsible for referring over 50% of new sales year after year!
Invisible Fence Brand NS provides pet containment services for Nova Scotians and their domestic pets. In addition to in-home installation and service, they provide one-on-one training for the pets, and coaching for the clients to enhance their relationship with their pets. The in-home training and continued support are central to their success and to client satisfaction. 
Since the beginning of the COVID-19 pandemic, more people have welcomed pets into their homes and behavioral issues are increasing. Invisible Fence Brand NS bring solutions directly into the client's home and addresses many behavioral issues through weekly in-home training sessions. Their clients see the results within a few weeks and Invisible Fence Brand NS quickly becomes their "Go-To" contact for pet related issues.
They can make sure a cat stays in the house but off the kitchen counter, or that a nervous dog feels more confident because they can open their locked pet door to go in or out of their home. They offer solutions for mobility challenged pet owners to ensure that their pets get exercise but are not running at-large in the community. Their hands-on and in-home approach to providing services ensures that solutions are personalized to each property and the client's specific needs.
This company is a great CBDC success story, we have been with them every step of the way. Pam started as an SEB client in 2004. Subsequently, the company obtained a loan from us for expansion in 2010 and they have taken training through CAS. We are currently supporting their business expansion. This is an excellent success story for CBDC as the business created 2 positions for the owners, now employs additional individuals, and resulted in a profitable and growing business. They have deep roots in the community and have been giving back since the business started.
The next stage for the business is to continue to expand to meet the high demand for their services, while continuing to grow at a rate that allows them to retain their excellent customer service. They intend to continue to hire and train employees and are considering expanding their physical location.
CBDC Hants-Kings nominated Invisible Fence Brand NS for the Business Award of Distinction based on their business success, ongoing relationship with CBDC, and their excellent customer service reputation. This company is a great CBDC success story, we have been with them every step of the way
https://novascotia.invisiblefence.com/your-local-dealer/home