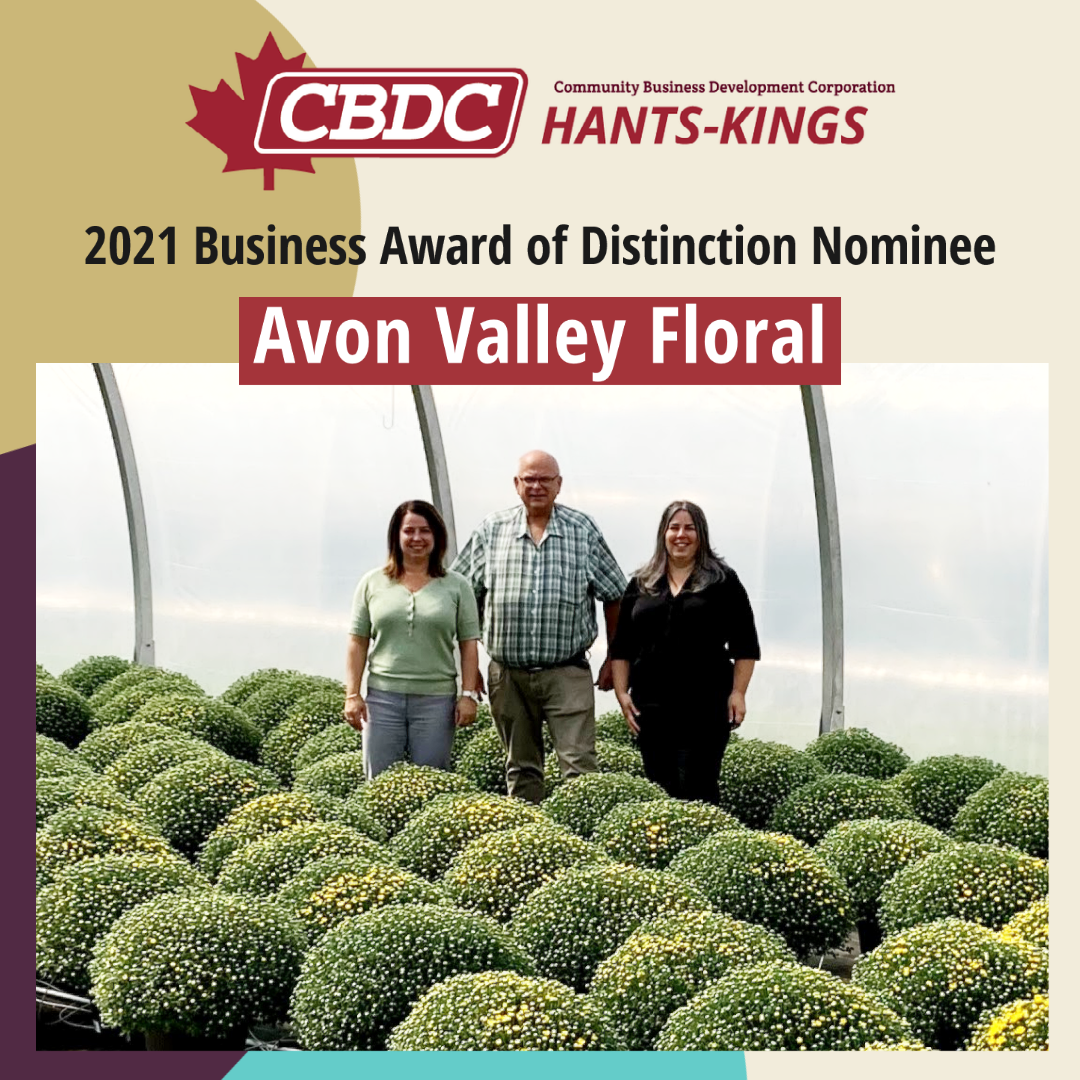 2021 Business Award of Distinction Nominee: Avon Valley Floral
Based out of Falmouth, Nova Scotia, Avon Valley Floral is a local company serving local florists. Founded in 1935 and incorporated in 1942 as a floral wholesaler and greenhouse, Avon Valley Floral is a leading provider of cut flowers, potted plants, foliage, dish gardens and bouquets as well as a full line of florist supplies and giftware. Their production and greenhouse departments grow and manufacture products for mass markets including seasonal crops for garden centres, Christmas flowering plants and decorative planters, and decorative birch pole products.
In 2012, a group of employees purchased the company and began the hard work of turning around a declining business to protect the livelihood of the employees. Changes were made to modernize the greenhouse operations and improve logistics with new planting facilities. Just as they prepared for their biggest spring season ever, a record snowfall followed by freezing rain in the winter of 2015 led to catastrophic damage to greenhouses and the heating system, eventually destroying 7 of the 8.5 acres with severe damage to the structures that remained.
The leadership team developed a strategy for survival and recovery that led the company through an extremely challenging time. One of the recovery strategies was to maximize the revenue per square foot and efficiency to achieve more revenue per acre of production. This meant reducing the number of different products produced and focusing on higher quality/value products. It also meant searching out markets that would complement the higher value production. After two trial years at Costco, Avon Valley Floral was awarded the full Costco business in the Maritimes and then added the Newfoundland stores as well.
While the increase in future sales was great news, it required installation of additional acreage of greenhouses. The timing of the increased orders for the upcoming growing season and the organizational capacity was a challenge. CBDC Hants-Kings was able to provide critical working capital for the upscale required to meet the larger Costco contracts and those for other wholesale customers. Avon Valley Floral has also taken advantage of CBDC training programs. It's a great success story. The company now has a waitlist for wholesale customers that will allow more acres of production to be brought online.
Apart from the greenhouse business, other business lines include supplying floral retailers, harvesting and processing decorative birch poles, and a large fall mum business. The highly successful turnaround of the greenhouse business provided lessons of simplicity for profit over other divisions, creating growth and profitability across all product lines.  
Looking to the future, Avon Valley Floral plans to grow greenhouse production space over three years to meet the unserved demand from customers. The decorative birch business has expanded in season and scope and also has a large unserved demand. They plan to address the unserved demands by building on the profitable lines that have been improved and developed in the past 4-5 years.
In the face of adversity and driven by a need to survive, Avon Valley Floral carved out a market to produce what they are good at growing. They satisfied their need for sales dollar volume by converting customer demand into the most profitable specialties. They changed their market and allowed customers to be more profitable as well.
When thinking of nominees for the Business Award of Distinction, Avon Valley Floral came to mind as an important employer in Atlantic Canada, a consistent contributor to the community, and a company that has rebounded with a lot of hard work and heart.